Who We Are
EFX Sports®...An innovator in a sea of sameness!
What started out in 2005 as a tiny in-house brand of All American Pharmaceutical…EFX Sports® has grown into an international brand recognized around the world for its quality, innovation, and commitment to drug-free purity.

Photo: EFX's first-ever Mr. Olympia Expo tradeshow booth – in 2005. (Pictured from left to right two of the three founders of EFX: Vice President Bruce Butterbredt and wife Melissa. President Brian Andrews and wife Marcy.)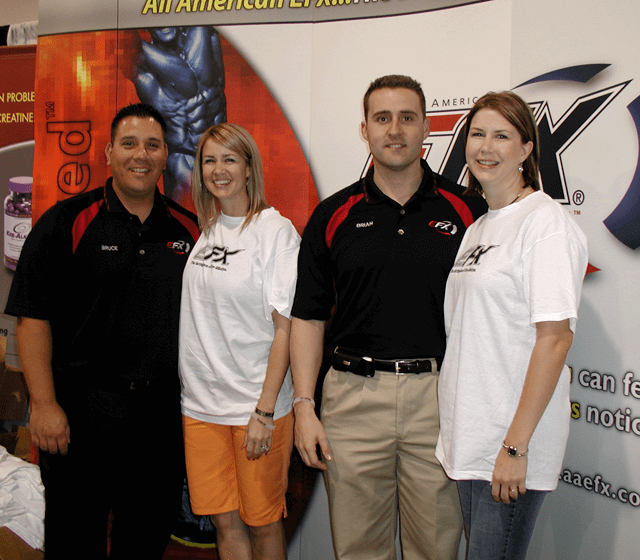 WE DON'T PLAY GAMES…WE JUST HELP YOU WIN THEM
We love what we do, and we have fun doing it. We try not to take ourselves too seriously here at EFX Sports. But we are dead serious when it comes to helping people build their dream body. We always have been, and will always be, committed to doing whatever benefits our customers the most. We're here to give you the tools, information and inspiration you need to reach your goals.

As we lead the Sports Nutrition Industry into a new era of innovation, information and integrity, our Mission, combined with the needs of our customers, will determine our path. Our values will be our guide. Ultimately, we want to build the company we wished was around when we first got started.
WE MANUFACTURE OUR OWN PRODUCTS
EFX Sports is part of a very small, elite group of brands
who actually make their own products. That's why we guarantee our products always meets label claims and is 100% banned-substance free. With any EFX Sports product, you'll know that what you're getting is pure, potent, and safe.

Made with American Tradition in Mind!
All American Pharmaceutical has been refining the art and science of sports supplements for over 35 years. We are dedicated to preserving traditional great American manufacturing history and ingenuity.

Everyone talks about quality but few deliver!
Our facility is strategically located in business-friendly Billings, Montana with a staff of over 150 hard-working team members who put their heart and soul into every life-changing product we formulate, test, pack, and ship from our dock to your home.

Our Mission
To help athletes worldwide achieve their God-given potential.
Our core values
We value our Customers. Without them, we do not exist.
We value our Team. No one of us could ever be as good as all of us.
We value our Mission. Nothing beats helping people transform their bodies and lives the "EFX Way".
We are always about keeping it R.E.A.L.
R
Relationships: With our customers, our families, and each other.
E
Excellence: We accept nothing less in all we do because average is the enemy of a winner.

A
Accountability: Keeping our commitments to each other will either make us or break us.

L
Laughter: Fun and humor is what gives us the energy to keep pursuing our mission.