Description
➤ TAKE YOUR WORKOUTS TO THE NEXT LEVEL
EFX Sports Test Charge testosterone support supplement is the catalyst you need to wreak havoc in the gym. It works by boosting the natural test levels, enhancing output, increasing bio-available "free test" and crushing estrogen. The extra "boost" and "pump" will help you sprint another lap, crank out that extra rep or simply get your body going during late-night training sessions.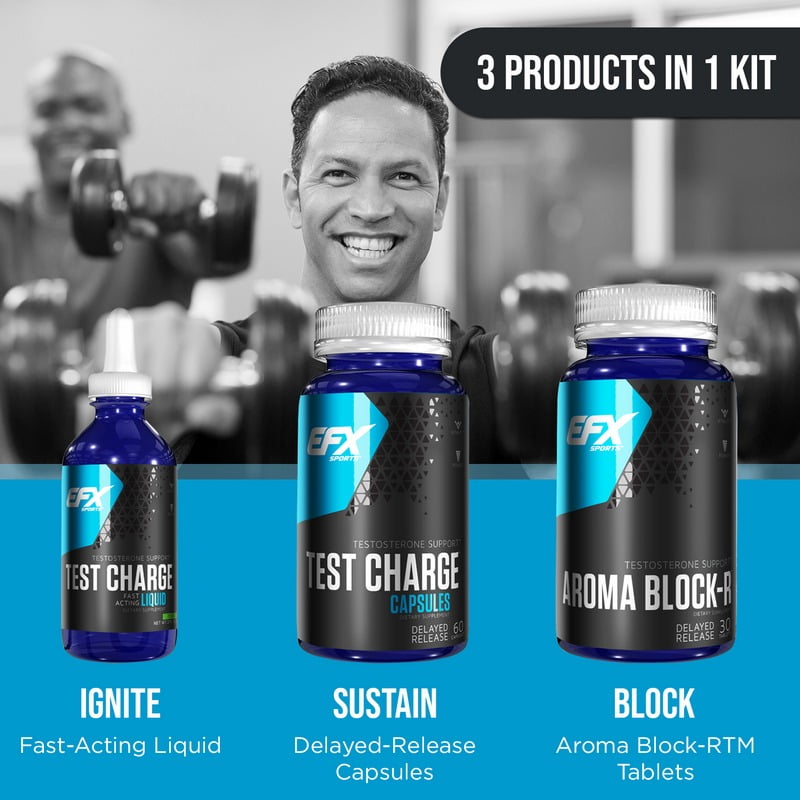 ➤ 3 HIGHLY-POTENT PRODUCTS IN ONE KIT
Because all the powerful components couldn't be crammed in one supplement, we created a complete, comprehensive system that includes an easy-to-absorb, and fast-acting Test Charge liquid, Test Charge capsules that enhances the response triggered by the liquid formula, and Aroma Block-R tablets that block the alpha-male crushing hormone estrogen.
➤ SOLUTION FROM NATURE
This is NOT a drug, steroid, or prohormone. Made from botanical extracts derived from several all-natural plant sources, our testosterone supplement is free from the not-so-good-for-you-ingredients, chemicals, fillers, and other unpronounceable stuff. Never again choose between what's not good for you and what works!
➤ TEST CHARGE IS NOT A CHEMISTRY EXPERIMENT
Kre Alkalyn EFX was invented by Dr. Jeff Golini, the exclusive formulator of EFX Sports. He developed the patented manufacturing process that produces the ONLY creatine monohydrate with a pH level of 12. No other creatine product can make that claim!
➤ WE MANUFACTURE OUR OWN PRODUCTS
We are not one of those "anonymous" sellers with a virtual presence. EFX Sports is part of a very small, elite group of brands that actually make their own products right here in the USA. The "USA Made" tag itself speaks of the uncompromising manufacturing process and stringent quality checks we go through to make our products the best.
$7.99 FLAT-RATE SHIPPING
Continental US Only
MONEY BACK GUARANTEE!
365 Day Risk-Free
SECURE CHECKOUT
256-Bit Encryption
MADE IN THE USA!
Trust The Source
Frequently Asked questions
Are you certain I will not fail a drug test or screening while using Test Charge?
Since Test Charge is not a drug or made from illegal compounds or prohormones, it will not show up in your system or be detected as a banned substance.
Do I need to cycle Test Charge?
No, it not required to cycle this product. However, many people find great success by allowing one full week off between each "cycle".
How long does it take for Test Charge to work?
While it depends on the individual, most notice a difference within 3-7 days of starting.