Rep EFX Sports And Earn A Commission!
We know the value of fantastic affiliates. That's why we are glad to offer qualified reps the chance to earn ongoing commissions when you refer customers to EFX Sports.

It's as simple as using your social media posts, texts, and videos to share our amazing products with your unique network.

The best part is that you will help us fulfill our mission to support Military Angels – our non-profit that takes care of the spouses of deployed troops. A portion of EVERY single order goes into a fund we use to help these families.
We Manufacture 100% Of The Products You'll Promote
EFX Sports is a division of All American Pharmaceutical. That's why we can unquestionably guarantee everything we produce always meets label claims and is 100% banned-substance free.

When you promote our EFX Sports, you're offering the purest, most potent products available anywhere.
Trust The Source: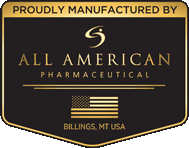 Here's How It Works

1.
Become An Ambassador
Fill out the registration form, and if our team approves your application, you'll have instant access to your ambassador links, stats, and more!
2.
Refer Customers
Use your ambassador link or discount code to refer customers to our site. You'll see all visits and coupon uses in your dashboard.​
3.
Get Paid
You'll receive a 10% commission on every successful new purchase you refer. Better yet, if those same customers start a subscription or continue to purchase, you will receive an ongoing 10% commission without doing anything more!
Become An Ambassador